I recently had the privilege of working with WSMV Channel 4 to capture stunning images of their on-air talent. This truly was a dream shoot for me as I have been watching WSMV News since I moved to Nashville 15 years ago. A huge thank you to Sarah Mackenzie who referred me for this shoot.

The shoot took place over two days, during which I took individual full-body images, headshots, and group photos in their newsroom.
On the first photoshoot day, I arrived at the WSMV studio with the best teammate ever, Anthony Romano, my Canon R5, a savage seamless background, Westcott Eyelighter and two lights. My goal was to capture the essence of each anchor and highlight their unique personalities. I started by taking headshots of each of the main anchors and other members of their team. My main light was camera right and the other was behind the anchor camera left. I also added my favorite headshot tool, the Eyelighter. We created a soft and even light across their face but also left a little bit of depth with a shadow, which made their features pop.

Next, I took full-body images of each anchor in various poses and angles. The anchors were so lively and enthusiastic that it felt like being in a room with a bunch of superheroes! We had the absolute best time. Here are some of the final images. The composites were put together by the team over at WSMV.
For the second day of the shoot, which was a few weeks later, I returned to the WSMV studio to take a couple group shots of the anchors in their TV studio. This time I brought my new Profoto lights I picked up at the IMAGING conference.

The studio was lit as it would be for their normal taping, and I used a combination of existing light and strobe light to create a dramatic and moody effect. To add even a little bit more drama, we lit each anchor individually and composited the image in post-production. We also did some additional images on the other side of the studio. The results were stunning images that captured the excitement and energy of the newsroom.
One of the final images WSMV decided to turn into a floor-to-ceiling wall print in their studio. It was an honor to see my work displayed in such a prominent way, and it was a testament to the hard work and dedication that went into the shoot.
Working with WSMV Channel 4 was a fantastic experience, and I am thrilled with the images we captured. The combination of individual full-body images, headshots, and studio shots in their newsroom allowed us to showcase the anchors in a variety of different ways. And the fact that one of those images became a wall decal in their studio was truly the cherry on top. I am grateful for the opportunity and look forward to working with them again in the future.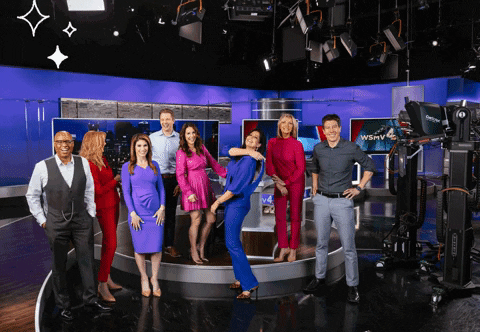 Canon R5
Canon 24-70
Canon 70-200
Profoto B10x Plus
Westcott Eyelighter 3
Kupo Click Stand
Impact Umbrella + Diffusion for Umbrella

***affiliate links*** I may be paid a small commission for items you buy. Read my affiliate disclosure here.